Princess Elizabeth of Yugoslavia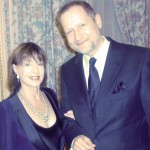 Princess Elizabeth of Yugoslavia (Serbian Cyrillic: Кнегиња Јелисавета Карађорђевић) is a Serbian and Yugoslav princess, a member of the House of Karageorgevich, a human rights activist and a former presidential candidate for Serbia.
Jelisaveta is gifted with natural grace combined with boundless energy – a real princess!  She is also the proud mother of actress Catherine Oxenberg.
At the end of 1990, she created the Princess Elizabeth Foundation, a non-political, not-for-profit organization after foreseeing the crucial importance of a vehicle to address the tension brewing just below the surface. Since the subsequent civil wars, her efforts have focused heavily on transporting medical supplies, food, clothing and blankets to refugee camps, in addition to finding homes for children victimized by war and placing older students in schools and colleges in America.
Before the breakup of Yugoslavia began in 1991, she invited the Orthodox Bishop Sava and the Mufti of Belgrade, along with the Yugoslav Minister for Religious Affairs to attend a conference in Moscow that was hosted by Mikhail Gorbachev. This was the second international gathering of political and religious leaders committed to world reform that included Mother Teresa, the Archbishop of Canterbury, the Dalai Lama, Al Gore and Carl Sagan.
"I do not understand how people can feel superior to those of another faith or race. Such intolerance is deeply rooted in fear, which helps to perpetuate injustice and hatred. This deep programming prevents people from honouring and celebrating life's differences"
In 2002, Princess Elizabeth received the first Nuclear Disarmament Forum Award, the Demiurgus Peace International, (accompanying president Vladimir Putin, Archbishop Desmond Tutu, Ted Turner and others) for outstanding achievements in the field of strengthening peace among nations in Zug, Switzerland.
Official website of Princess Elizabeth